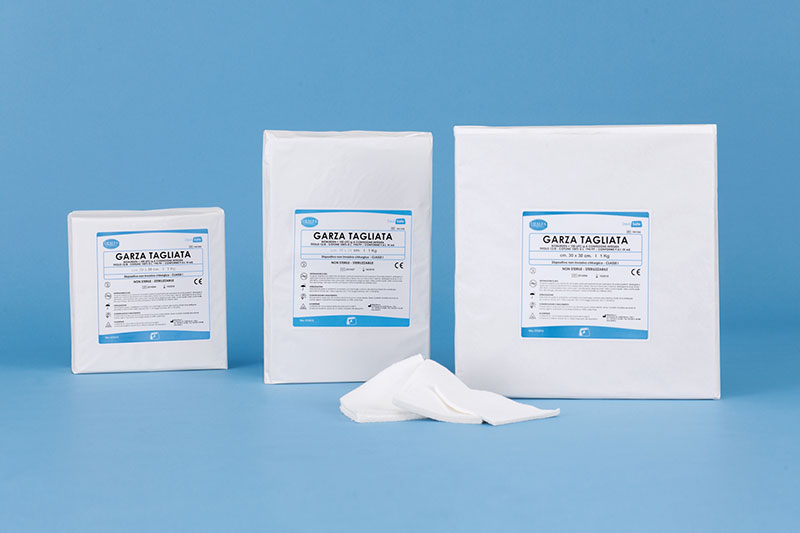 Measurements:
10cm. x 10cm.
15cm. x 15cm.
20cm. x 20cm.
25cm. x 25cm.
30cm. x 30cm.
40cm. x 40cm.
50cm. x 50cm.
20cm. x 40cm.
15cm. x 20cm.
36cm. x 40cm.
Unsterile cut garza.
100% pure cotton hydrophilic gauze, cut. Not sterile.

Description:
Gloves are manufactured in compliance with the essential safety requirements set out in Annex 1 of the European Pharmacopoeia Ed., Directive 93/42 / EEC transposed in Italy with D. Lgs.vo No 46 of 27.02.1997, UNI EN 14079.
Available in different sizes and sizes and have a 32/40 yarn reduction of about 29 g / m², a yarn 30/30 with a weight of about 40 g / m² or a yarn 20/20 with a weight of about 55 g / m².
They are packaged with medical paper in 1 kg packages.
Sterilization:
The device can be sterilized after suitable packaging in a microbiologically controlled environment, using methods and processes validated in accordance with current regulations.
The device is compatible with the main sterilization methods: steam (ISO 17665) ethylene oxide (ISO 11135) and ionizing radiation (ISO 11137).
Methods of production:
Cut to size.
Inspection for quality control.
Packaging and packaging.
Intended use:
Non-invasive surgical device in Class I (or Class II).
Dealfa recommends using gauze with radial contrast wire in the context of surgery.
Brand: CE 0425 – Line: DealSafe – LATEX FREE
Table title:
Unsterile cut garza.
Note:
Availability of product customizations in terms of measurements.