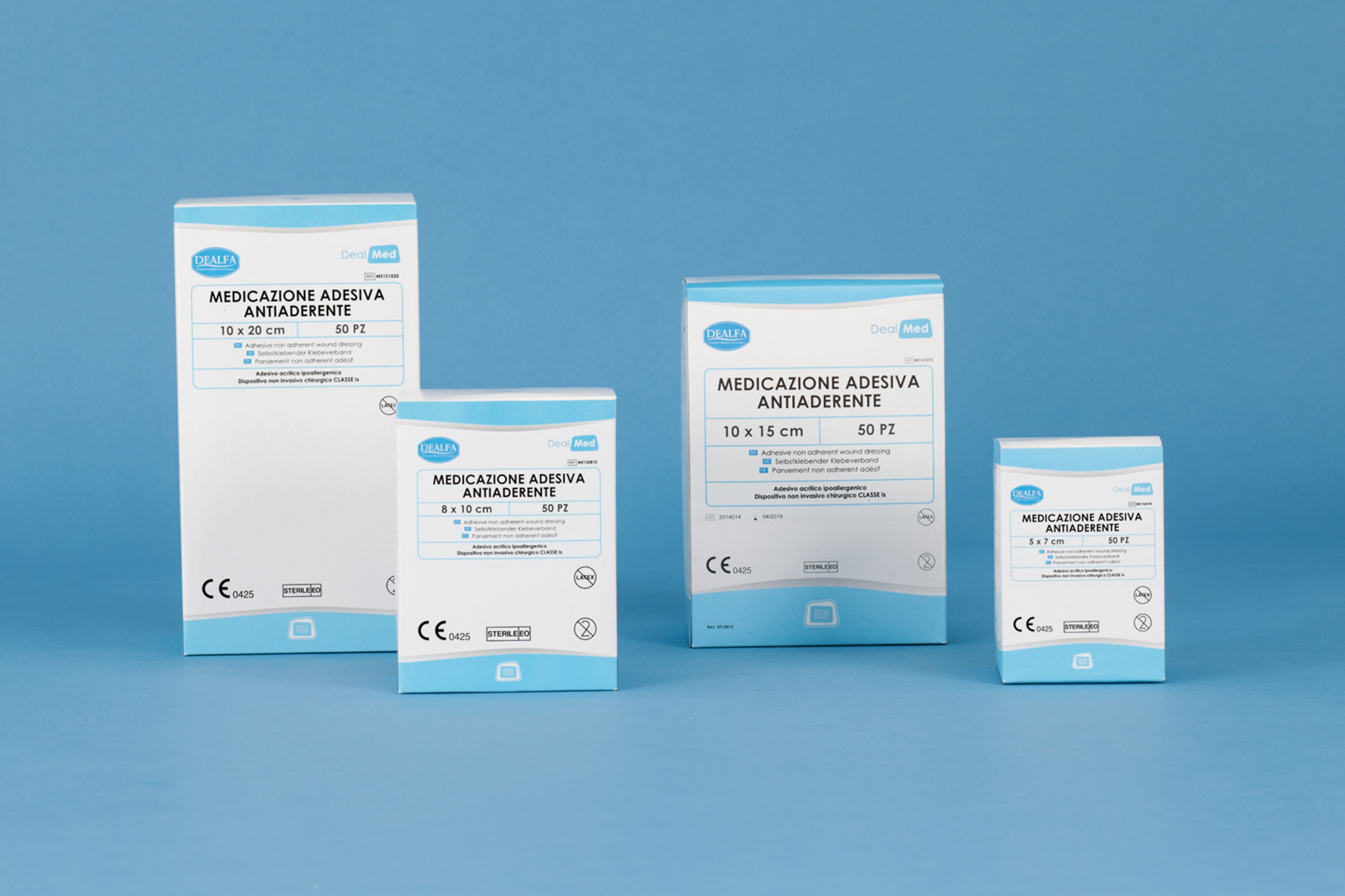 Measurements:
7cm. x 5cm.
6cm. x 9cm.
8cm. x 10cm.
8cm. x 15cm.
10cm. x 10cm.
10cm. x 15cm.
8cm. x 20cm.
10cm. x 20cm.
10cm. x 25cm.
10cm. x 30cm.
10cm. x 35cm.
TNT sterile sticky sticky dressing.
Non-woven adhesive non-stick adhesive sterile post-operative medication.

Description:
The dressings are produced in compliance with the essential safety requirements listed in Annex 1 of the European Pharmacopoeia Ed., Directive 93/42 / EEC transposed in Italy with D. Lgs.vo no. 46 of 27.02.1997, UNI EN 14079.
They are available in different sizes, packaged in a single envelope with "Peel Open" opening, using medical paper and packed in 50-pack boxes.
The material used is TNT machined with 80% viscose, 20% polyester surfacing technology.
Weight 50g / m², porous, extensible, airy, hypoallergenic, water repellent, radiotransparent, air permeable, water vapor, flexible and conformable.
The glue is applied in hot polyacrylic, latex-free.
The adhesive is composed of polyacrylates with excellent adhesion and spread on the support in a uniform but porous manner, to ensure proper passage of air and steam while respecting the skin's perspiration.
Hypoallergenic.
It does not leave residue and does not make any resistance to detachment.
The absorbent pad is made up of 100% viscose with polyethylene perforated film with high absorption capacity.
Permeable to air.
Flexible and conformable.
Hypoallergenic and radiotransparent; coated with porous film that does not adhere to the wound.
Sterilization:
The device is packaged in a suitable microbiologically controlled environment, using methods and processes validated in accordance with current regulations, Directive 93/42 / EEC and sterilized with ethylene oxide according to ISO 11135.
Methods of production:
Primer material coating in TNT with acrylic glue.
Cut to size.
Application of the 1.5mm thick absorbent padding accessory.
Enveloping.
Inspection for quality control.
Sterilization and packaging.
Intended use:
Non-invasive surgical device in Class Is to keep the micro-environment of a wound under control.
Brand: CE 0425 – Line: DealMed – LATEX FREE
Table title:
Non-stick adhesive dressings in sterile TNT.
Note:
Product customization availability.