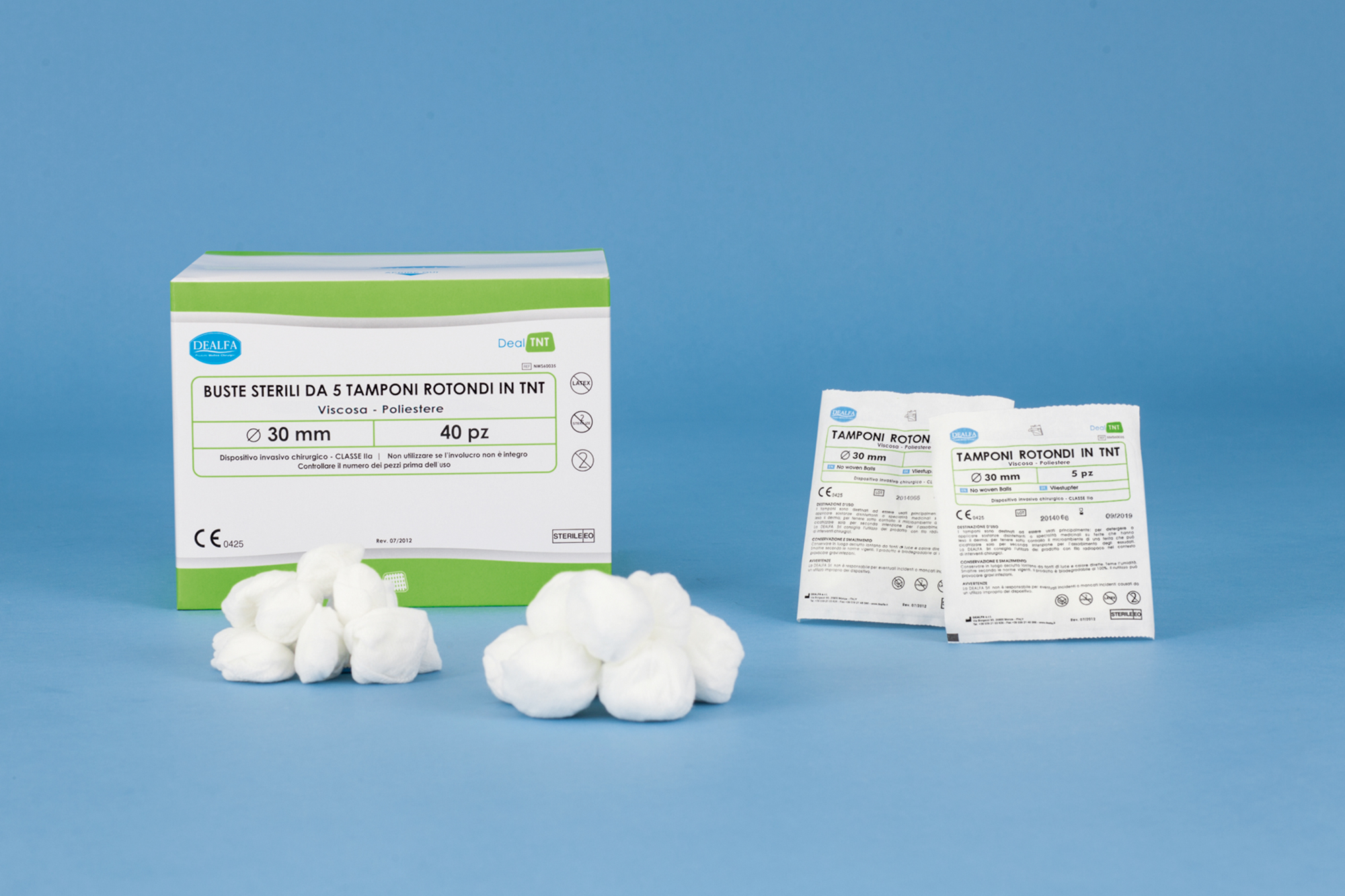 Measurements:
Sterile TNT Tampons.
Non-sterile non-woven Fabric Blisters, made up of viscose and polyester mixed with each other.

Description:
Swabs are manufactured in compliance with the essential safety requirements set out in Annex 1 of the European Pharmacopoeia Ed., Directive 93/42 / EEC transposed in Italy with D.Lgs.vo no. 46 of 27.02.1997, UNI EN 14079.
They are available in different sizes and sizes (30 g, 40 g, 50 g).
They are manufactured with or without radial contrast wire (RX), which is securely thermally welded.
They are packaged in a single envelope or double envelope with "Peel Open" opening, using medical paper and plastic film made of polypropylene.
On double envelopes, the check count for the numeric count is applied and, if required, packaged in box dispensers.
They are available in several 2/5/10/20 pieces depending on your request.
Sterilization:
The device is packaged in a suitable microbiologically controlled environment, using methods and processes validated in accordance with current regulations, Directive 93/42 / EEC and sterilized with ethylene oxide according to ISO 11135.
Methods of production:
Cutting and folding wrapped inside the ball, enclosed by an elastomeric "Latex Free" silicone elastic and, if provided, using the product with radial, thermally welded wire.
If required, the pad can be enclosed without elastic.
Enveloping.
Weighing each single envelope with weighing scale to verify that the number of tampons inside is correct.
Inspection for quality control.
Sterilization and packaging.
Intended use:
Class IIa invasive surgical device.
Dealfa recommends using gauze with radial contrast wire in the context of surgery.
Brand: CE 0425 – Line: DealTNT – LATEX FREE
Table title:
Sterile TNT pads available in 30-40-50 g grams with or without radial contrast wire respectively in double envelope or single envelope.
Note:
Availability of product customizations both in terms of size and imitation.
Availability of the product with or without elastic.