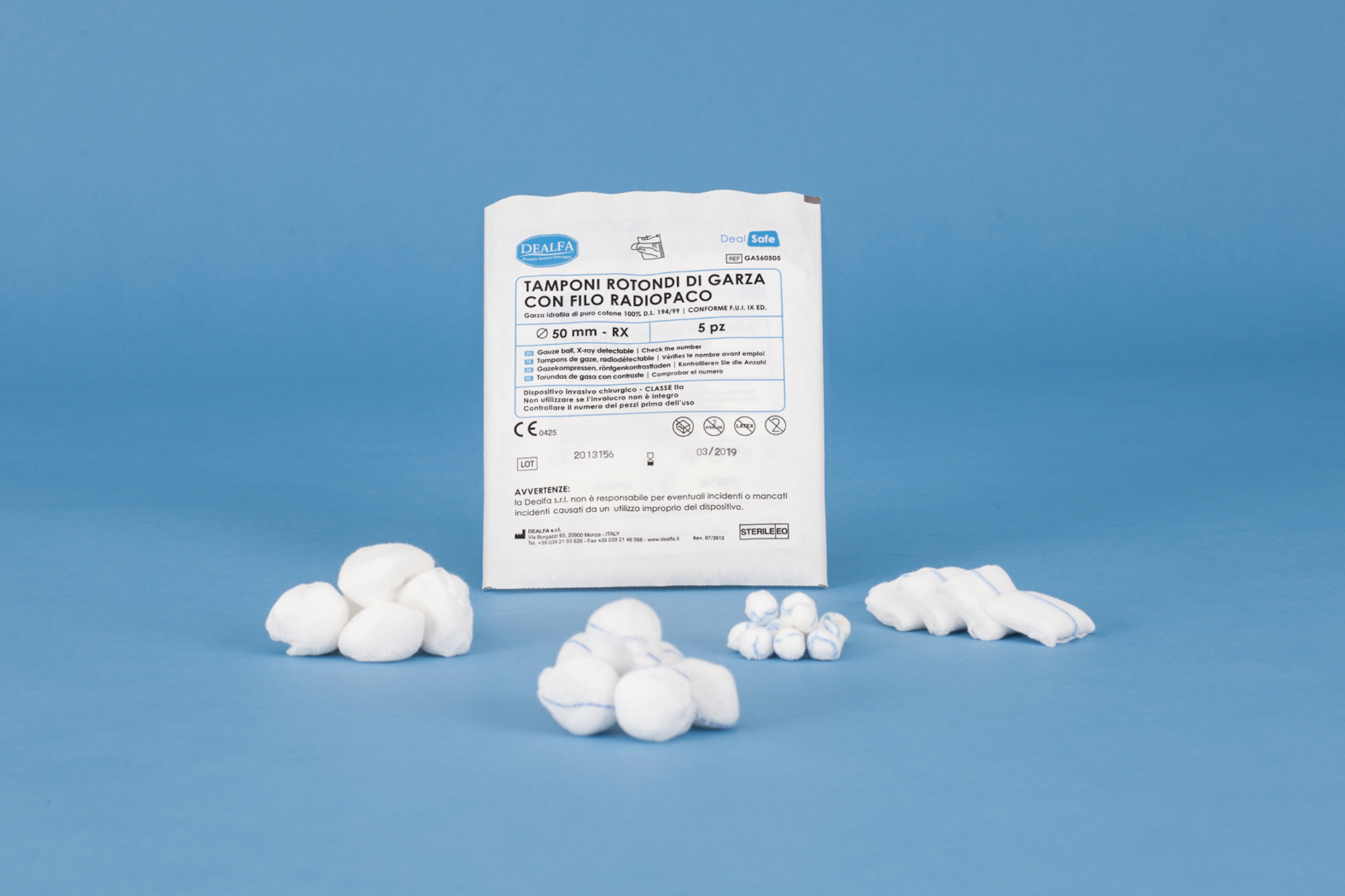 Measurements:
Gauze pads ∅ 8, 10, 12 mm.
Gauze padlocks 10, 12 mm.
6mm Oval Scratch Pads. x 6mm.
8 mm oval oval buffers. x 8mm.
Gauze pads ∅ 16, 20, 25, 30, 40 mm.
Gauze pads ∅ 50, 60, 70, 100 mm.
Flat gauze pads 3mm. x 3mm.
Flat gauze pads 10mm. x 10mm.
Sterile gauze pads.
100% pure cotton hydrophilic gauze pads. Sterile.

Description:
Swabs are manufactured in compliance with the essential safety requirements set out in Annex 1 of the European Pharmacopoeia Ed., Directive 93/42 / EEC transposed in Italy with D.Lgs.vo no. 46 of 27.02.1997, UNI EN 14079.
They are available in different sizes and sizes and have a 32/40 yarn reduction.
They are made with or without radial contrast wire (RX), which is firmly wrapped in the gauze and are packed in a single envelope or double envelope with "Peel Open" opening, using medical paper and polypropylene plastic film.
On double envelopes, the check count for the numeric count is applied and, if required, packaged in box dispensers.
They are available in several 2/5/10/20 pieces dependnigr request.
Brand: CE 0425 – Line: DealSafe – LATEX FREE
Table title:
Sterile gauze pads with or without radial contrast wire, available in double envelopes or in a single envelope.
Note:
Availability of product customizations both in terms of size and imitation.
Availability of the product with or without elastic.