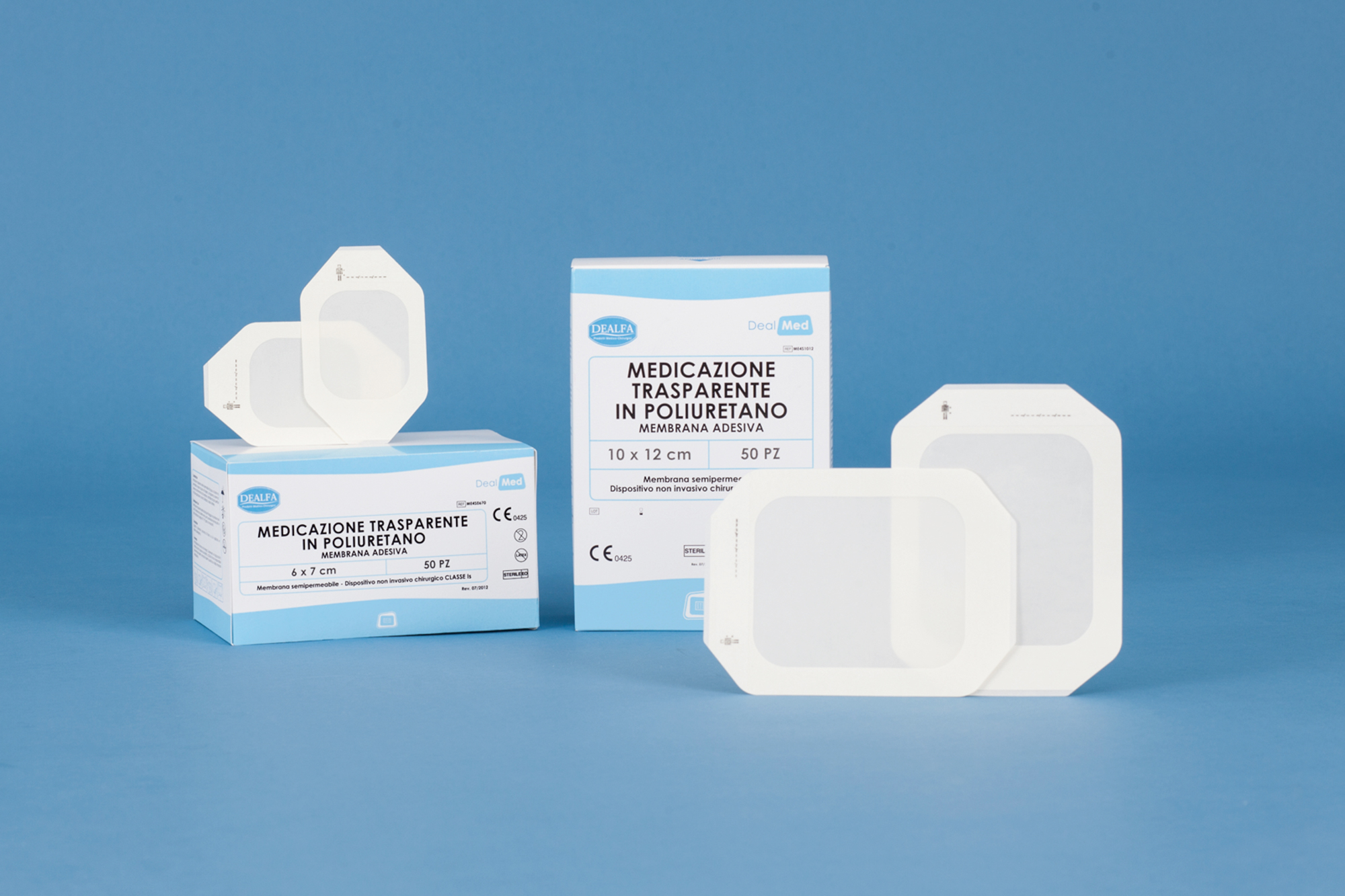 Measurements:
4cm. x 5cm.
6cm. x 7cm.
10cm. x 12cm.
15cm. x 20cm.
10cm. x 25cm.
20cm. x 25cm.
20cm. x 30cm.
Polyurethane dressing.
Sterile, adhesive dressing, in transparent polyurethane film with high water vapor transmission rate.

Description:
For particularly use where water vapor permeable dressing is required, since maintaining the wet environment is ideal for re-epitizing the tissue in the area of ​​the lesion.
Easy to apply and manageable, it can be used as primary dressing on surface lesions, minor abrasions and burns, skin protection in the perilous area, and secondary dressing to cover the hydrogels.
Provides the ideal environment for rapid healing.
Its transparency allows continuous wound monitoring without the need for removal of the dressing.
The flexibility and conformability of the film guarantee greater patient comfort.
Rounded corners minimize the risk of accidental dressing, which can thus remain on the site for longer, with obvious benefits in terms of cost-effectiveness in wound management.
The acrylic and hypoallergenic adhesive guarantees the skin's compliance and prevents any irritation.
The "frame" opening system makes it easy to apply wound dressing.
Waterproofing allows the patient to carry out regular daily hygiene activities.
Sterilization:
The device is packaged in a suitable microbiologically controlled environment, using methods and processes validated in accordance with current regulations, Directive 93/42 / EEC and sterilized with ethylene oxide according to ISO 11135.
Methods of production:
Cut to size.
Bend the gauze with the ribs facing inwards to prevent the wires from leaking.
Enveloping.
Weighing each single envelope with weighing scale to verify that the number of tablets inside is correct.
Inspection for quality control.
Sterilization and packaging.
Intended use:
Non-invasive surgical device in Class Is to keep the micro-environment of a wound under control.
Brand: CE 0425 – Line: DealMed – LATEX FREE
Table title:
Polyurethane dressings.
Note:
Product customization availability.