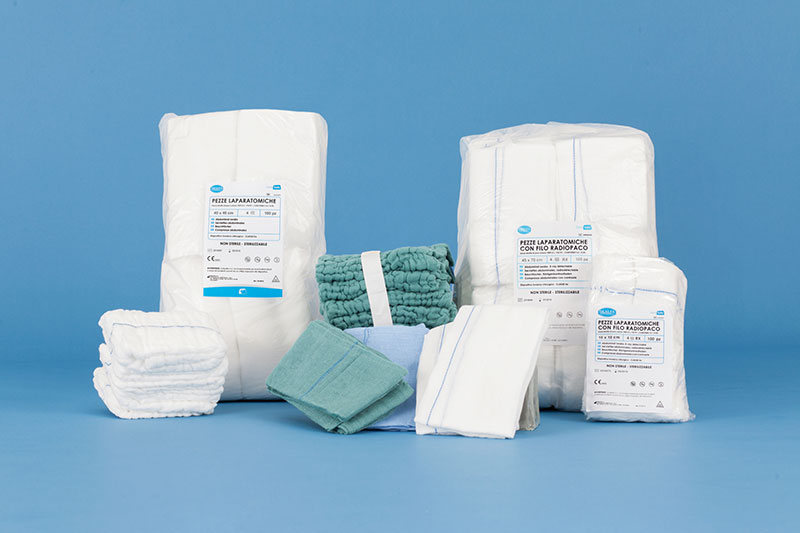 Measurements:
10cm. x 10 to 4 layers
20cm. x 20 to 4 layers
25cm. x 25 to 4 layers
20cm. x 30 to 4 layers
30cm. x 30 to 4 layers
30cm. x 45 to 4 layers
40cm. x 40 to 4 layers
45cm. x 45 to 4 layers
50cm. x 50 to 4 layers
45cm. x 70 to 4 layers
10cm. x 60 to 4 layers
50cm. x 60 to 4 layers
70cm. x 70 to 4 layers
45cm. x 45 4 layers of green
50cm. x 50 to 4-layer blue
50cm. x 60 to 4 green layers
50cm. x 50 to 8 layers pre-wash
Non-sterile gauze laparotomy pails.
100% cotton puree and long-lasting hydrophilic gauze lengths. Not sterile.

Description:
The laparotomic pieces are produced in compliance with the essential safety requirements set out in Annex 1 of the European Pharmacopoeia Ed., Directive 93/42 / EEC transposed in Italy with D. Lgs.vo no. 46 of 27.02.1997, UNI EN 14079.
They are available in different types of sizes, layers and titles and have a 32/40 yarn reduction.
They are manufactured with or without radial contrast wire (RX), which is firmly woven into the gauze or fitted with contrast bar, are packed in polypropylene (PE) bags of 10/50/100 pieces as required.
Also available on request are green or blue laparatomics, or pre-washed laparatomics.
Sterilization:
The device can be sterilized after suitable packaging in a microbiologically controlled environment, using methods and processes validated in accordance with current regulations.
The device is compatible with the main sterilization methods: steam (ISO 17665), ethylene oxide (ISO 11135) and ionizing radiation (ISO 11137).
Methods of production:
Cut to size.
The gauze piece is bent with the inside edges, sewn along the perimeter and provided with internal stitching, to prevent wire leakage.
Where required the application of the retention tape, i.e. a belt buckle firmly attached to an angle.
Equipped with cross stitching.
Padding, inspection for quality control and packaging.
Intended use:
Class IIa invasive surgical device.
Dealfa recommends using gauze with radial contrast wire in the context of surgery.
Brand: CE 0425 – Line: DealSafe – LATEX FREE
Table title:
Non-sterile gauze gauze gauze with or without radiological contrast wires also available with retention tape.
Note:
Availability of product customizations in terms of measurements, layers and padding.